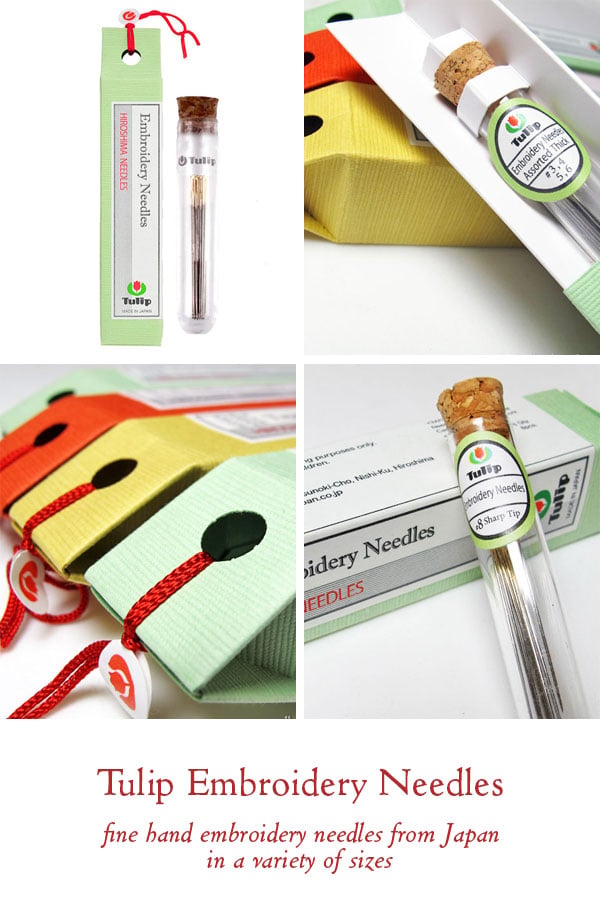 Fine hand embroidery needles from Japan a variety of sizes.
The needles listed here are my favorite sizes & types of Tulip needles.
In embroidery needles (also called "crewel" needles), with sharp tips & medium-length eyes, you'll find the following sizes:
Embroidery Assorted Thick: 2 each #3, 4, 5, & 6
Embroidery Assorted Thin: 2 each #7, 8, 9, & 10
Embroidery #8
Embroidery #10
Silk Needles #10: these have a small round eye and an extra tapered tip to make stitching on tightly woven, high count fabrics (like silk, fine linens, and cottons) easier.
To read more about Tulip needles, in-depth, you can find my review for them here.
Shipping
When purchased separately, these ship via First Class mail to US addresses.
When purchased in combination with other items, these will ship Priority Mail with the other items.
If you are ordering from Canada and you would like these included in your order, please make arrangements via email at mary(at)needlenthread(dot)com.
They are shipped in a small protective box in a polymailer to guard against weather.
Any notable extra shipping will be refunded when your package ships.
For questions regarding shipping and returns, please read Shipping & Return Policies here.