Round Hoops for Embroidery
$

10.00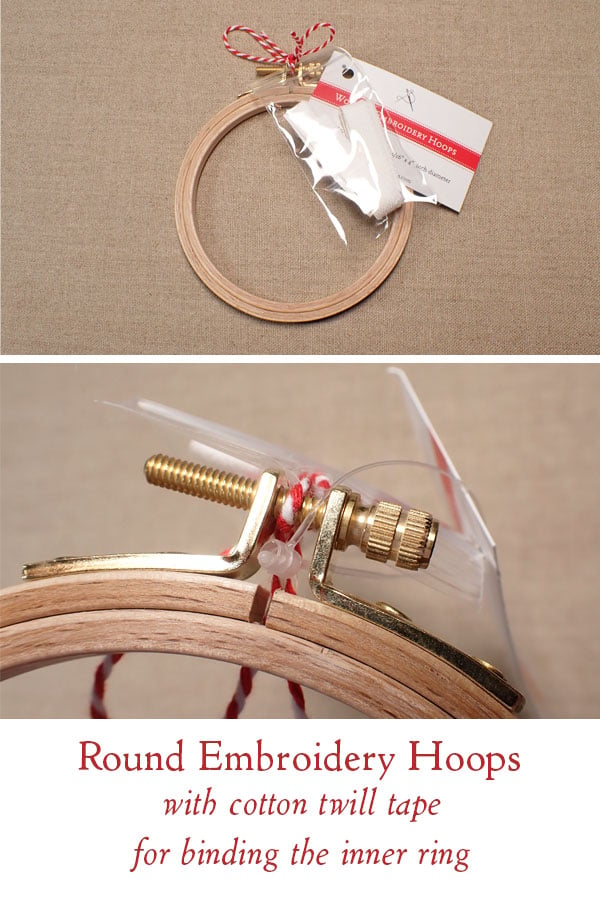 Solid beechwood embroidery hoops, sanded smooth and finished, with sturdy brass hardware.
Don't confuse these hoops with the cheaper bamboo hoops sold in craft stores! These high quality hoops will last a life time if used and cared for correctly.
Presently, they are available here in 3", 4", 5", and 6" sizes. The rings are 5/16" deep.
The 4" hoops are ideal for working small ornaments and other projects. It is the perfect size for working Christmas Tree, for working most of my Snowflakes designs, and for most of the monograms in my monogram design collection.
The 3" hoops are ideal for working small separate elements for stump work (individual flower petals, butterfly wings, and the like), as well as for working very small complete projects. They are a great way to frame small "hoop art" projects or Christmas ornaments, when you want a higher quality frame for a nicer finish. Autumn Fire will fit perfectly in a 3" hoop if you want to finish it as "hoop art."
3" hoops are Frank Edmunds & Co.
4", 5", and 6" hoops are Hardwicke Manor hoops
Cotton Twill Tape Included
Included with each hoop is a length of cotton twill tape for binding the inside ring of the embroidery hoop, which helps protect your ground fabric and helps provide consistent, excellent tension. You can learn how to bind the inner ring of an embroidery hoop in this tutorial.
Shipping
Presently, these hoops ship via First Class or Priority mail to US addresses only, depending on the size of the hoop.
Any notable excess shipping expenses that occur when ordering multiple items will be refunded when your order ships.
Please read further information on shipping, returns, and refunds here.