4" Perfect Scissors
$

22.00
Sold out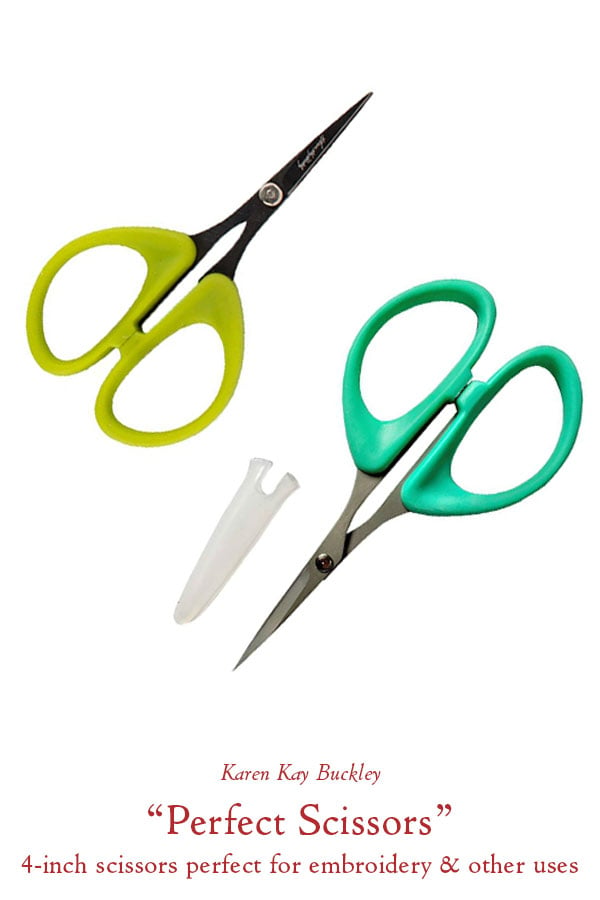 These 4" scissors are indeed perfect for many uses!
The blades are sharp, the mechanics are smooth, and the handles are comfortable.
The green scissors feature a stainless steel micro-serrated blade. I use these scissors for goldwork, to cut real metal threads. I also use them (a second pair) for trimming small hexies and other small pieces of fabric on finish work. They work wonderfully with various types of fabric. They also work great for cutting embroidery thread!
The seafoam (or peacock) blue scissors feature a stainless steel knife edge (smooth) blade with a very sharp, fine tip. They're great for cutting embroidery threads, for trimming cutwork, cutting felt, and more!
I like these scissors because they are good quality and they aren't super expensive. I can have multiple pairs for a variety of uses, including metal work, embroidery, and even paper cutting. I mark my goldwork pair and my paper scissors with a small bead or charm on one handle, so I know to use them only for those dedicated purposes.
Shipping
Presently, these hoops ship via First Class mail to US addresses only, when ordered singly. If they are part of a multi-item order, the order will likely ship Priority mail.
Any notable excess shipping expenses that occur when ordering multiple items will be refunded when your order ships.
Please read further information on shipping, returns, and refunds here.