Metallic Thread Ensembles
$

39.00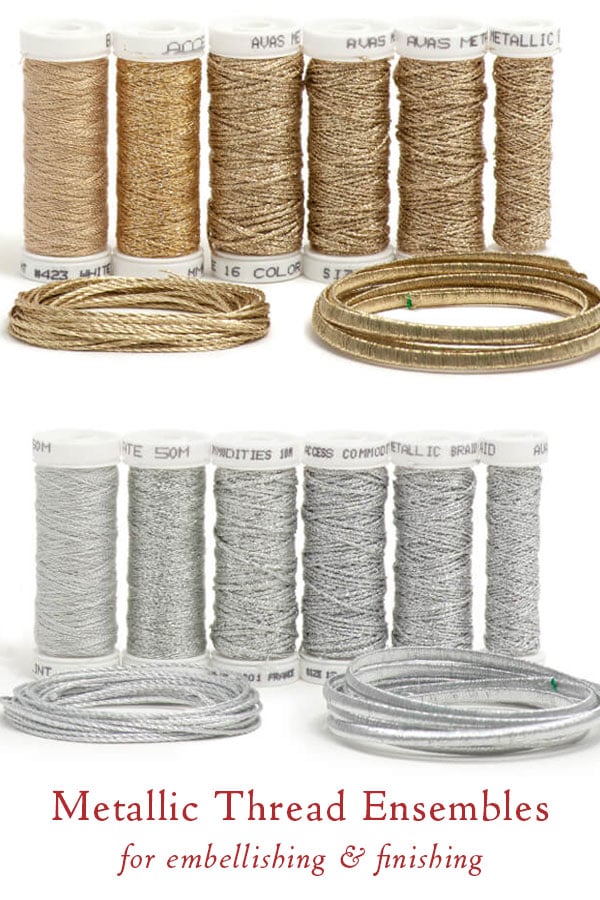 Gorgeous color-themed collections of high quality metallic threads to use for embellishing needlework and for finishing.
The threads included in the metallic ensembles are suitable for all kinds of hand stitching, including surface embroidery. I've found that, of all the metallic threads currently on the market, the AVAS braids are the easiest to stitch with, when passing through fabric. They also work well as couched threads. The finer braids can be used for tambour embroidery as well.
At this time, gold and silver metallic thread kits are available. The kits contain the following:
Au Ver a Soie Metallic Braid Size 4
Au Ver a Soie Metallic Braid Size 8
Au Ver a Soie Metallic Braid Size 12
Au Ver a Soie Metallic Braid Size 16
Accentuate Metallic Thread
Bijoux Metallic Thread
Metallic Cartisane Gimp
Metallic Soft Twist Trim Cord size 20
Shipping
The thread kits ship within the USA and Canada via priority mail.
If combined with other products, any notable excess shipping expenses will be refunded when your order ships.
Please read further information on shipping, returns, and refunds here.