Bee-Jeweled Pincushion Materials Kit
$

25.00
Sold out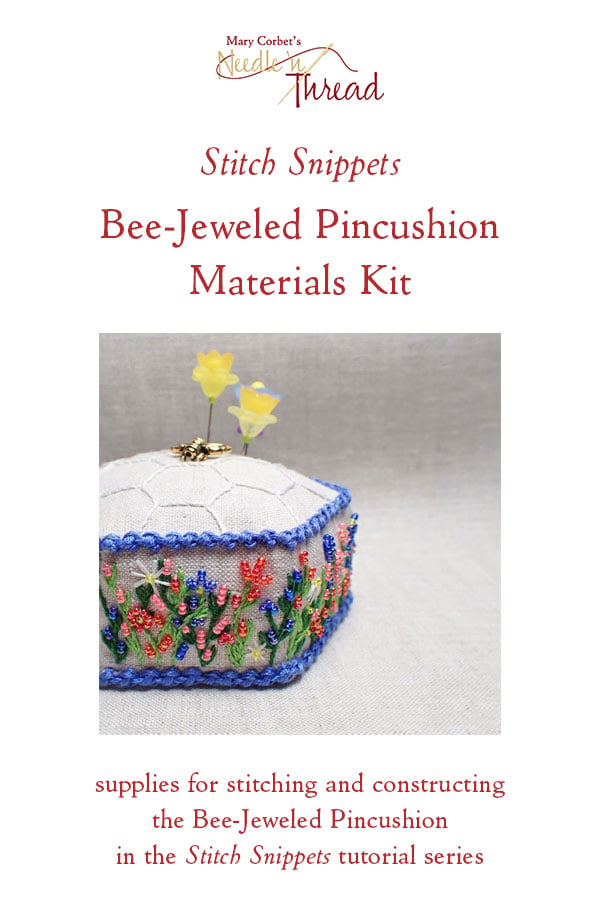 The materials you need to stitch and construct the Bee-Jeweled Pincushion from the Stitch Snippets tutorial series on Needle 'n Thread.
The Bee-Jeweled pincushion is a small (3") hexagon-shaped pincushion, embellished with surface embroidery, bead embroidery, and a special antiqued gold-tone bee charm.
The project is suitable for determined beginners and beyond. Basic embroidery skills are required. You should be able to transfer a design, start and end threads, work simple stitches, and follow basic instructions. All techniques will be covered in the tutorial series.
The embroidery is worked with one or two strands of floss, and embellished with size 15/0 seed beads.
Kit Contents
Each kit contains blank ground fabric, embroidery floss, beads, bead thread, specialty bee charm, needles, interfacings, and board for constructing the pincushion.
You supply a hoop or frame, scissors, glue (if using), sewing thread, and stuffing.
Instructions and design for this project will be posted in a series of tutorials on Needle 'n Thread. Instructions and design are not included in the materials kit.
Shipping
In order to expedite delivery, each kit will be shipped via Priority mail in the domestic US, or flat rate Priority Mail International to Canada.
Currently, there is a suspension of Priority Mail International service to Australia (updated and still effective as of January 18), so I regret that I cannot ship to Australia at this time.
Although delivery times are not guaranteed, they have recently improved, so they should be close to the normal Priority parameters for domestic shipping.
Especially if you live outside the US, or if you are curious about why I don't currently offer international shipping, please read my shipping and return policies here. If you make a purchase from my shop, it is understood that you agree to abide by these policies.
Restock / Advanced Notice
If you are interested in the kit and it has sold out, please drop me a line for advanced notice and I'll send you an email when the kits are restocked. If there is interest, I will restock as quickly as possible!